North Cotswold District covers an area in North Gloucestershire that stretches from Northleach to Chipping Campden. There are Scout Groups at Bourton-on-the-Water, Andoversford (Sevenhampton), Chipping Campden, Moreton-in-Marsh and Northleach.
Scouting caters for boys and girls aged between 6 – 18 years . There are four sections:


Beavers for 6-8 year olds. Beaver activities include making things, outdoor activities, singing, playing games, going out on visits, investigating nature, listening to stories, learning how to be safe and most importantly, making new friends.
Cubs for 8-10½ y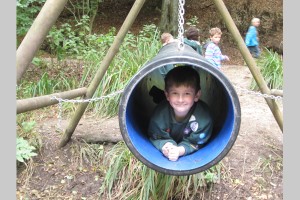 ear olds. Cub activities include things like swimming, music, exploring, computing and collecting. There are a range of badges available which Cub Scouts can wear on their uniform. Cub Scouts also get to go on trips and days out and take part in all kinds of outdoor activities including indoor sleepovers and camps.
Scouts is for young people aged 10½ to fourteen years old. Scouts are encouraged to take part in a wide range of activities as part of their programme. There is a huge range of badges that Scouts are given the op
portunity to complete, but they also get to take part in a range of outdoor and adventurous activities including nights away from home.
After leaving Scouts, young people attend Explorer Scouts. This is for 14-18 year olds, and involves even more adventurous activities, but young people get more involved in organising these activities for themselves. Explorers also help out as Young Leaders with younger sections. There are Explorer units at Chipping Campden (Random Explorer Unit), Bourton-on-the-Water (Windrush Explorer Unit), Moreton-in-Marsh (Evenlode Explorer Unit) and Northleach.
In order to offer this range of activities across the district we need lots of adult support. Roles for adults can be as leaders attending regular meetings, section assistants who have a particular skill or help out from time to time, or administrative or support roles, assisting in the work behind the scenes.
If you or your child would like further details of a group near you please contact our District Secretary: admin@gloucestershire-scouts.org.uk.
For more information about Scouting, Beaver Scouts, Cub Scouts, Scouts and Explorer Scouts please see our national web site at www.scouts.org.uk .